Political: UK Muslims United Against Oppression March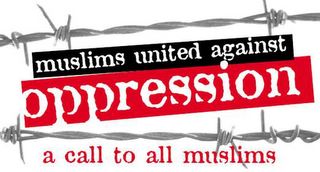 A Muslim is a brother to a Muslim, he neither forsakes
him nor abandons him..." (Bukhari and Muslim)Muslims united against oppression March this Saturday Time and Place : 10:30 am Assemble at Marble Arch, London W1 March From : Marble Arch to Paddington Green Police Station
Hizb ut-Tahrir Britain will be supporting the biggest Muslim unity anti-terror march Britain has witnessed Belmarsh detainees unlawfully held for 3 years 660 held in "no man's land" in Guantanamo
Using torture against Muslims abroad Liberation struggles in Iraq, Kashmir, Palestine, Chechnya labelled as terrorism
Over 700 arrests and 3 convictions in UK & over 3000 arrests in USA Draconian Anti Terror laws, Control Orders & House Arrest
Extradition to the USA at request of NeoCon administration
Intimidation by stop and search Families wrecked by wrongful arrests & trial by media T
his march is non-partisan and non-sectarian.
Various organisations have come together to undertake the largest Muslim Anti Terror Civil Rights March on a Muslim unity platform.
It is essential that the Muslim community sends a clear message against the 'climate of fear' that has been created by these draconian laws and disproportionate arrests targeted at a community which has made a significant contribution to this society.